Messenger-based
Incident and Operations Management
CCA OnSite
Alerting
Transparent Communication
Proven Documentation
Map-based Situation Picture
Are you looking for a messenger?
Maybe you are looking for a messenger-based operations management system!
Of course, chatting and exchanging pictures via consumer or business messenger apps supports communication helps to accelerate processes and to better understand the current situation on-site.
However, the moment you chat about incidents or operations, your most important mission data disperses into different chat groups or private messages, and information about different operations is mixed up. Instead of uniform communication and a uniform understanding of the situation, your organization creates a multitude of different images. The scattered information does not allow any evaluation or reconstruction of the situation later.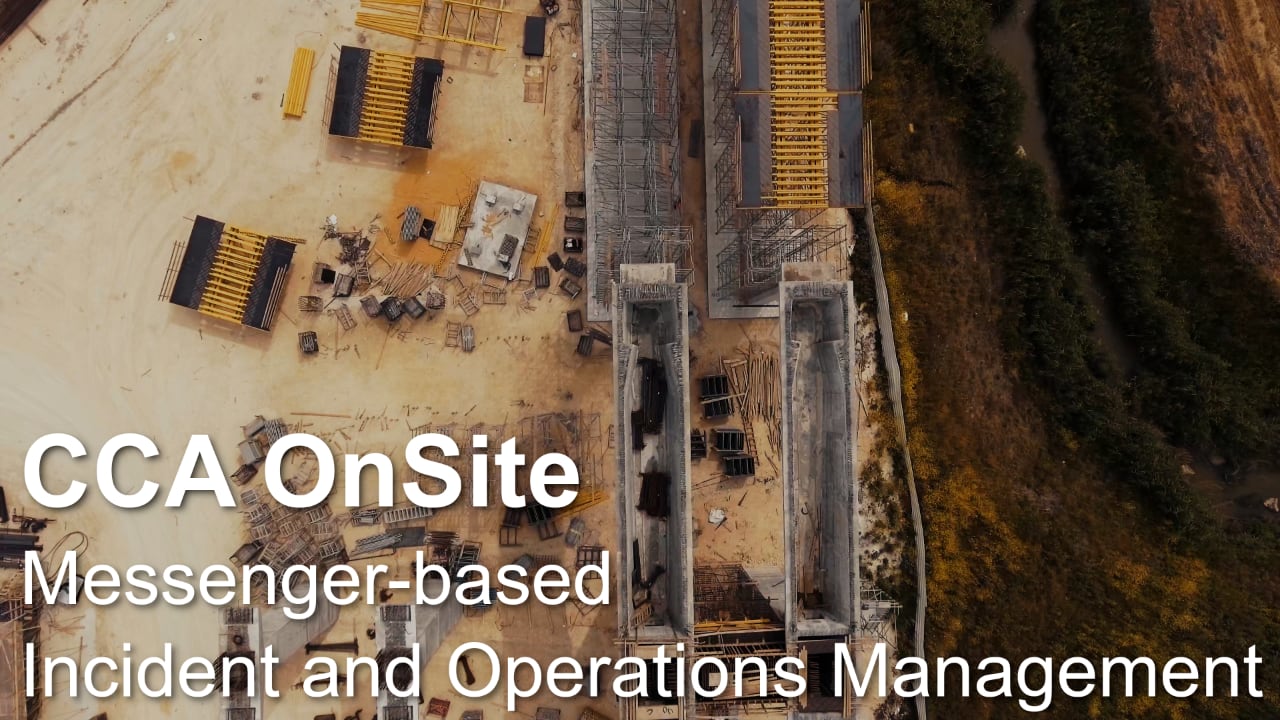 A separate chat for each operation
This is exactly where CCA OnSite comes in. It combines a messenger with a powerful incident / operations management system. For each incident, the system uses a separate chat in which all communication as well as media (images, videos, ...) and observations are collected. A chat bot provides all participants with important mission information, such as that the coordinator or the situation has changed, or the incident has been upgraded to a crisis.
Chat as chronological protocol
This operation-specific multimedia chat thus represents a detailed chronology of the communication and the available information at the respective point in time. In addition, it also contains - invisible to most users - access log entries. This allows to reconstruct who has accessed what parts of the chat or downloaded what multimedia data at what time. See "How can you prove the processes during an operation?"
Live map-based situation picture
Another conceptual difference is the positioning of chat elements. CCA OnSite automatically compiles positioned media and observations as well as the position of staff and drones from the messenger to an always up-to-date map-based situation picture. See "How do you get map-based situation awareness?"
Data protection and data safety
CCA OnSite also provides professional data protection functions. For example, a coordinator can reduce the visibility of individual content. Optionally, faces are automatically pixelated. And of course, all data in the mobile apps is encrypted. See "Security and Data Privacy?"
Sounds expensive.
But it is not!
It's the new standard.
How do you get map-based situation awareness?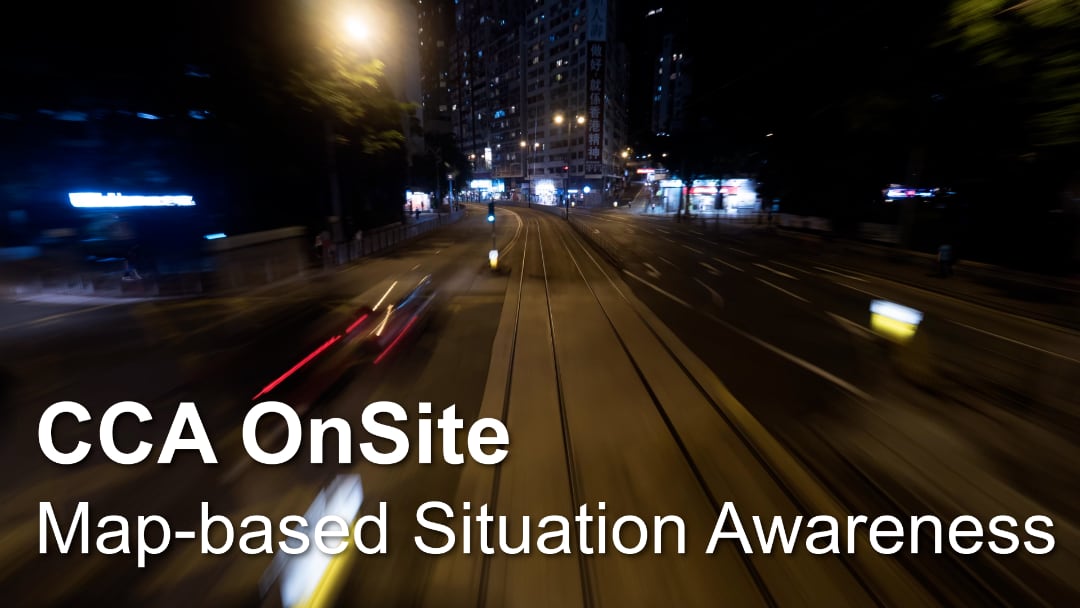 During an operation, a plethora of information pours down on those responsible:
Description of the location,
Description of the situation on site,
Images or videos received via various media,
Information on the position of emergency services,
Location-related information like infrastructure or danger zones
CCA OnSite is a lightweight system for handling incidents and planned on-site operations. The system is characterized by an easy-to-use, messenger-based user interface.
On-site employees use the system
to communicate with each other and with the control center as well as to exchange data,
to document the development and observations
to communicate the situation to decision-makers and
to trigger alarms in the event of incidents.
The live situation map
A particular feature of CCA OnSite is its automatic situation picture. It enables the user to quickly grasp the situation by displaying all operational data on a map. By simply tapping the map, the situation on site can be viewed from different angles. Also the position of staff and ressources can be tracked. Additional information like infrastructure or danger zones is available in the map.
Messenger as a data source
To do this, the system records a variety of position-related data:
Location of the incident
Staff / resources
Media recorded by staff or drones

pictures,
videos,
audio recordings or
textual observations
Interactive map
All these positions are shown as markers on an interactive map in the web app.
Selecting a specific marker or area on the map shows the details of the according elements.
In the case of a photo, a preview image and additional text are displayed. At the push of a button, you can open the picture or scroll to the point in the chat where it was taken. This allows you to to understand the context when it was recorded.
For staff or ressources, the name, battery level and tracking status are displayed.
In this way you can easily analyze the situation from different perspectives. The positions of resources helps you to monitor staff working alone or to estimate when reinforcements or important resources will arrive.
With just a few clicks you can adapt the map to the requirements of the operation. You can choose from different background maps or display suitable map layers.
Automatically and everywhere
The important thing is: All this information does not have to be laboriously prepared, but is automatically available to you and always up-to-date. In the control center, at work or on the tablet on the go.
Sounds expensive.
But it is not!
It's the new standard.
How can you prove the processes during an operation?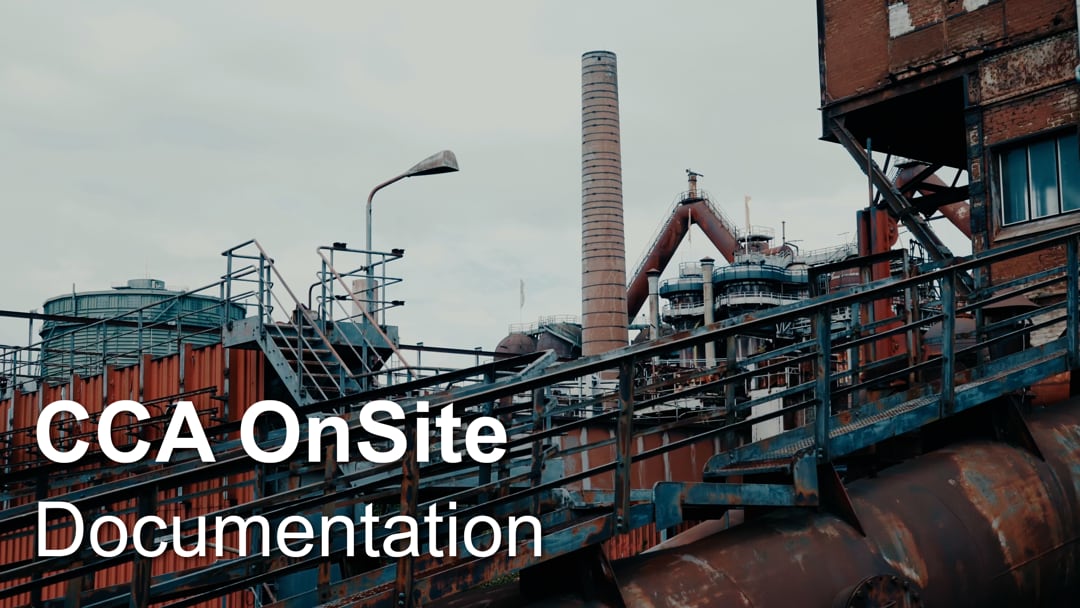 How did the operation go exactly? Who was notified when? Who gave the order? Which details were known when?
These are just a few of the typical questions that often arise after an operation.
CCA OnSite is a lightweight system for incident and operations management that helps you answer precisely these questions.
To do this, CCA OnSite channels communication via a simple, operation-specific messenger. The participants use this messenger to communicate and to share photos, videos, audio recordings or textual observations.
In addition to the human participants, the following bots also take part:
Chat Bot
The chat bot documents important events in the chat, such as:
Reporting of the incident
Status changes
Change of the situation description
Change of the coordinator
Upgrade to crisis
Activation / deactivation of access restrictions
Chat bot to document group calls and external events
Optionally, additional data or events can be integrated as well. For example, audio recordings of group calls that are thus available to all users and part of the operation protocol. Also infrastructure alarms can be integrated in similar way.
Access Bot
The access bot logs all accesses into the chat:
Who was alerted when?
Which part of the chat was transferred to which device and when?
Which user read which part of the chat and when?
Which user accessed which media and when?
All this is part of the chat that in this way represents a complete, chronological log of operations.
Of course, many of these access log entries are usually hidden. They are only displayed to authorized users who have selected an repective view mode.
Archive function
It is often necessary to keep the operational documentation for many years. CCA OnSite therefore includes an archive function that stores all operational data both as a printable, human-readable document as well as electronically readable data.
Live situation map
Not to be forgotten is the live situation map, that can be used to view the operation from different perspectives even after a mission has been completed.
See "How do you get map-based situation awareness?"
Sounds expensive.
But it is not!
It's the new standard.